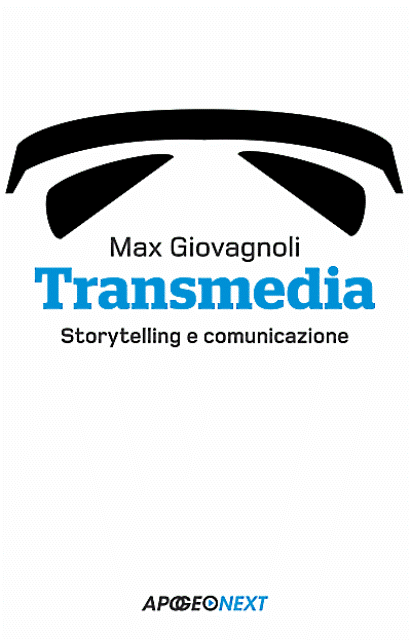 Transmedia
Storytelling e comunicazione
Apogeo Edizioni
Marzo 2013
Collana: Apogeo Next
Nove blockbuster su dieci tra i maggiori successi mondiali delle ultime stagioni sono opere transmediali (Harry Potter, Twilight, Avatar, Assassin's Creed, Il Cavaliere oscuro, Star Wars, Games of Thrones, Tron, Lost). E la storia non cambia se si passa dal cinema ai videogame, alle serie TV, ai fumetti, alle news o alle campagne di advertising dei più importanti brand mondiali (Coca Cola, BBC, Nike...). Noi siamo già il pubblico delle narrazioni transmediali. Fare transmedia significa raccontare storie su più mezzi di comunicazione creando grandi progetti di storytelling e comunicazione. Questo libro è un saggio e un manuale insieme ed esplora i processi creativi e industriali di grandi franchise e progetti indipendenti distribuiti per mezzo dei "media incrociati" – dalla costruzione della storia alle tecniche di storytelling, dalla scelta delle piattaforme alla promozione e distribuzione di contenuti.
L'autore presenta, per la prima volta in Italia, le tecniche e gli standard internazionali illustrandoli con numerosi esempi tratti dagli ambiti dell'intrattenimento e della comunicazione aziendale, della promozione artistica e istituzionale, dei progetti no-profit e per l'educational.
Completano l'opera gli interventi di alcuni dei transmedia producer tra i più importanti al mondo (Allimonos, Dena, Gomez, Jenkins, Norrington, Srivastava, Weiler).
Il libro è dedicato agli autori e ai fan dei new media e del cinema, ai creativi dell'advertising e della comunicazione, ai professionisti del marketing e ai producer della nuova televisione, ai game designer e agli esperti dei social network, agli studenti e ai ricercatori dei media, dei processi culturali e delle nuove frontiere della scrittura creativa.
L'autore
Max Giovagnoli è il pioniere italiano del transmedia storytelling ed è stato definito in USA "una delle trenta voci che stanno cambiando il modo di raccontare storie in tutto il mondo". Autore e transmedia designer, ha collaborato con Disney, Sony, Warner e con broadcaster televisivi europei (RAI, EBU). Coordina il Corso di Media Design all'Istituto Europeo di Design (IED) di Roma ed è stato speaker italiano per il TEDxTransmedia mondiale nel 2012. È autore di romanzi e fiction tv; esponsabile transmedia per ROMICS, direttore scientifico del Transmedia Storytelling Workshop e comitato editoriale per Cartoons on the Bay (RAI). Dirige il network cross-media.it e le sue ricerche sono focalizzate in particolare sul rapporto tra storytelling, contenuti per l'intrattenimento e social activity. Con Apogeo ha pubblicato Cross-media. Le nuove narrazioni (2009).
"Le grandi storie non muoiono mai, ma si trasformano"
BOOKTRAILER