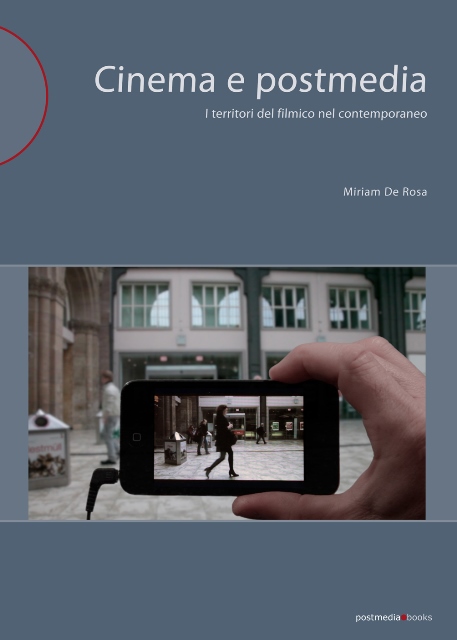 Miriam De Rosa
Cinema e postmedia
I territori del filmico nel contemporaneo

Edizioni postmedia books
2013
Cinema e postmedia è la prima ricerca italiana dedicata al cinema-postmediale, a quelle forme filmiche che non vengono consumate dallo spettatatore nella sala cinematografica ma piuttosto nei nostri spazi quotidiani. Cos'hanno in comune le grandi media-façade che ormai costellano le nostre città, le videoinstallazioni proposte dai musei, le applicazioni di geo-localizzazione del nostro smartphone? Che connessione è possibile trovare tra immagine in movimento e il nostro quotidiano? Quali effetti si riflettono sull'ambiente nel momento in cui questo diventa uno spazio di visione? All'incrocio tra film studies, riflessione estetica e filosofia del design, Cinema e postmedia cerca di rispondere a queste domande. L'esplorazione delle complesse dinamiche al centro dell'esperienza filmica in epoca postmediale si sviluppa a partire dal più recente dibattito sul postcinema e prova a rilanciarne una possibile lettura in chiave interdisciplinare. La ricerca evidenzia la stretta connessione fra tradizioni di matrice teorica e fenomeni quotidiani, attingendo da questi ultimi con la proposta di diverse case history. Adottando un approccio esperienziale, il volume riunisce dimensione desk e field e innesta tra esse un legame che consente di mettere in luce nuove categorie di analisi, individuando quella che è una galleria dei neoluoghi contemporanei del filmico.
Miriam De Rosa (Milano, 1981) svolge attività didattica e di ricerca presso l'Università Cattolica di Milano, dove ha conseguito il Dottorato in Culture della Comunicazione ed è docente a contratto di Culture dell'audiovisivo. È attivo membro di NECS (European Network of Cinema and Media Studies) e collabora con Almed (Alta Scuola in Media, Comunicazione e Spettacolo), per cui ha seguito e organizzato iniziative di alta formazione. Il suo lavoro si concentra sulle intersezioni tra spazio e immagine in movimento nell'ambito delle nuove forme dell'esperienza mediale audiovisiva. Su questi temi ha scritto vari saggi apparsi in riviste e collettanee nazionali e internazionali (Bianco e Nero, Comunicazioni Sociali, Cinéma et Cie, Necsus).