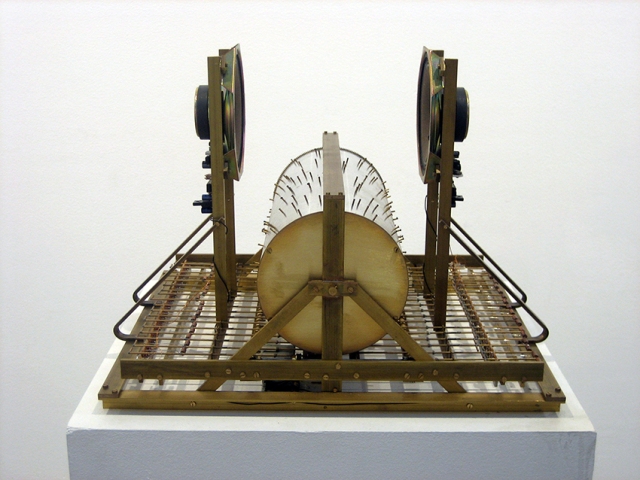 Berlino
Galerie Mario Mazzoli

Kristoffer Myskja
Hermetic Mechanics
19 gennaio – 9 marzo 2013
La Galerie Mario Mazzoli presenta la prima mostra personale del giovane artista norvegese Kristoffer Myskja (Oslo, 1985).
Le opere in mostra sono il frutto di una forte fascinazione esercitata sull'artista dalla transizione dall'alchimia alla scienza moderna: nei suoi lavori infatti si ritrovano elementi propri ad entrambe le discipline e alle loro metodologie. I materiali (come il mercurio e l'oro utilizzati in "Splitting the mercury drop in order to maintain balance", e in "Covering up Gold"), il delicato equilibrio tra forze contrastanti ("Governors") e infine l'elemento rituale ("Smoking machine") rimandano all'alchimia. I mezzi e il procedimento con cui egli realizza le sue opere, invece, unite ad una accuratezza e una precisione ingegneristica, sono propri dello scienziato moderno.
L'incanto che l'opera suscita é peró l'esito di una rara abilitá propria dell'artista nell'armonizzare questi elementi, catalizzando l'attenzione dell'osservatore verso una scultura che é meccanica, e tuttavia poetica, suggestiva ed ermetica."Hermetic Mechanics" sta ad indicare il carattere nascosto ed imperscrutabile che accomuna tutti i lavori di Kristoffer Myskja e ancor piú sottolinea il loro essere dei sistemi completamente chiusi, ovvero meccanismi indipendenti che non prevedono anzi escludono totalmente l'interazione umana ("Cospiring machine"). Kristoffer Myskja crea quindi delle macchine che sono paradossalmente inutili, demistificando cosí la loro ragion d´essere, ovvero quella di costituire degli indispensabili aiuti alle attività umane.