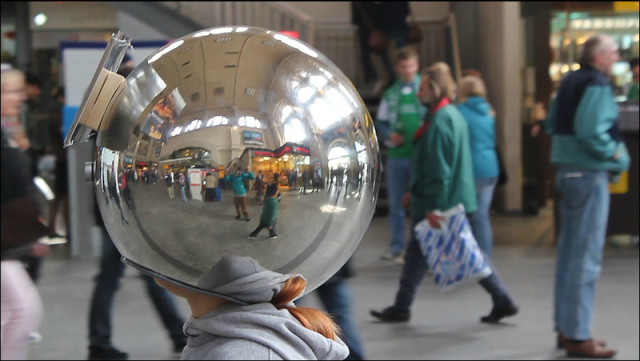 Venezia
Toolkit Festival
Festival di arte interattiva


Percorsi contemplativi
9 – 11 maggio 2013


www.toolkitfestival.com


Il Toolkit Festival, kermesse veneziana dedicata all'arte interattiva, curata da Martin Romeo, in collaborazione con A plus A Centro Espositivo Sloveno, con il patrocinio della Fondazione Bevilacqua La Masa di Venezia, il sostegno dell'Officina delle Zattere, di Ca' Foscari Digital Week e della Municipalità di Venezia, presenta il suo programma definitivo.

Il 9, 10 e 11 maggio 2013 Venezia ospiterà per il terzo anno di fila una tre giorni di mostre interattive, workshop e tavole rotonde dedicata al filone dell'arte contemporanea più sperimentale e all'avanguardia, con una rosa di artisti internazionali, scelti tra gli oltre 200 che hanno risposto al bando, da una giuria di esperti del settore. Karina Smigla Bobinski, artista interattiva polacca, Valerio Mannucci, curatore e editor di Nero Magazine, Daniele Spanò, curatore e rappresentante della Fondazione Romaeuropa, Fausto Tomei, autore del volume Arte Interattiva. Teoria e Artisti, hanno selezionato infatti i tredici partecipanti. Artisti provenienti da tutto il mondo, per una terza edizione del festival senza confini geografici, capace di riunire nella cornice di Venezia uno sguardo di insieme su questa espressione artistica contemporanea. Manifestazioni eterogenee che grazie a stimoli visivi/sonori/tattili sollecitano i sensi dello spettatore, vero protagonista delle opere di Anna Diaz/Jordi Planas (Spagna), Dimension+ (Hong Kong), Espaysantacruz Studio (Spagna), Anni Garza Lau (Messico), Nikolas Schmid-Pfaehler & Carolin Liebl (Germania), Lars Lundehave Hansen (Danimarca), Robert Mathy (Austria), Morast (Austria), Nohista (Francia), Ricardo O'Nascimento (Brasile-Italia), Lorenz Potthast (Germania), Daniel Schwarz (Germania) e Signal to Noise (Gran Bretagna).

Racconta il curatore Martin Romeo: "La terza edizione del Toolkit Festival è ormai rivolta all'internazionalità: artisti provenienti dal Brasile, dal Messico e da altri Paesi fino ad Hong Kong, proporranno in un pugno di giornate un'impegnativa azione interattiva in un mix sperimentale di arte e tecnologia all'avanguardia composto di sculture elettroniche che respirano forme leggere come gli origami del collettivo Dimension+ o come le opere di Ricardo O'Nascimento & Ebru Kurbak dove un insieme di piume crea l'illusione di una nuvola che interagisce con il pubblico. Ci saranno poi opere più meccaniche, come il casco di Lorenz Potthast che permetterà di cambiare la propria percezione del tempo o come Robert Mathy che, virtualmente, insieme a Signal To Noise, connetterà gli spazi espositivi in un vero e proprio Percorso Contemplativo".

Gli artisti esporranno in diversi luoghi della città, primo fra tutti la galleria A plus A Centro Espositivo Sloveno, Palazzo Malipiero e per la prima volta presso l'Officina delle Zattere. Crescono anche i sostenitori del Festival: la Fondazione Bevilacqua La Masa di Venezia, che ha dato il suo patrocinio al festival, ospiterà nello spazio di Palazzetto Tito un incontro sui temi della New Media Art a cui parteciperanno Mauro Arrighi, Sonia Cillari, Quayola e Stefano Coletto, mentre Ca' Foscari Digital Week collaborerà insieme al Festival per quanto riguarda i workshop che saranno tenuti dagli artisti milanesi otolab e dotdotdot.

Toolkit Festival è dedicato all'arte interattiva e alle sue capacità di esplorazione, ricerca e sperimentazione attraverso l'uso della tecnologia e il suo rapporto con il pubblico. Fin dalla sua prima edizione (Venezia, 2011) propone un'attenta e capillare mappatura delle ricerche più contemporanee del settore. In breve tempo ha riscosso attenzione e successo nella comunità artistica locale e nazionale, coinvolgendo numerose istituzioni veneziane e non, così come professionisti nel campo della New Media Art. La terza edizione del Toolkit Festival punta a diventare sempre più internazionale e ad affiancarsi agli altri eventi di grande respiro culturale ospitati dalla città di Venezia durante il corso dell'anno.