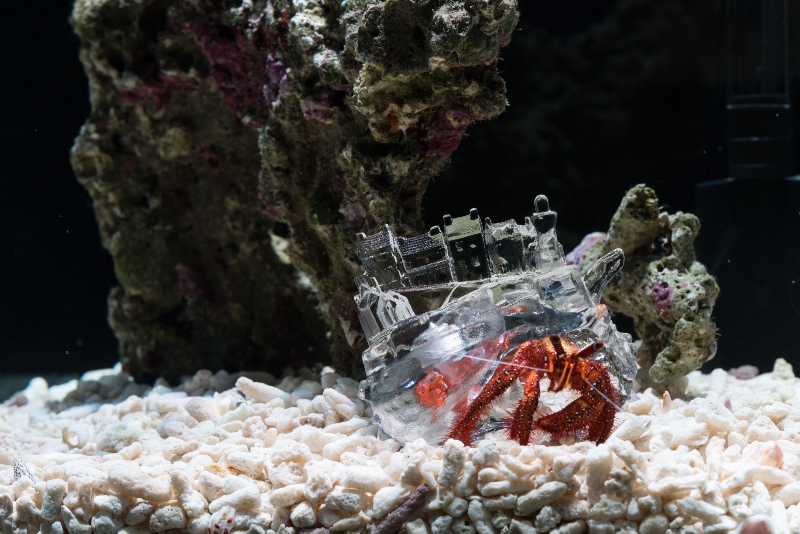 Are we better designers than nature? It is the question at once critical and poetic that we could ask ourselves at the discovery of the exhibition of the Japanese Aki Inomata. She stages hermit crabs who have taken extravagant artificial shells created in 3D by the artist.
To realize his installation Why Not Hand Over a "Shelter" to Hermit Crabs?, The artist studied the structure of the shells chosen by the small crustacean and made new ones, all more crazy and eccentric than the others. In the exhibition, which presents its various models for the first time in France, Aki Inomata offers shells in the shape of a New York skyline, baroque castle or the Chinese Wall!
These structures are modeled from 3D graphic design software and printed following a complex process of printing and extrusion. The set evokes an organic fashion show and completely delirious, staged in a collaboration between man, technology and nature, where each small animal would wear a unique piece.
The ensemble also stages the relationship to the artificial and ephemeral habitat that crustaceans naturally take hold in an astonishing integration of the digital through the organic.
Aki Inomata was born in 1983 in Tokyo, Japan and graduated from Tokyo Art University Art Section Inter-Media. His work focuses on the relationships and collaborative processes between humanity and nature. She transforms living creatures into works of art to make us think about aesthetic, social or political issues.
Nantes
Musée d'Arts de Nantes
Aki Inomata
Why Not Hand Over a "Shelter" to Hermit Crabs?
September  19, 2018 – June 1, 2019