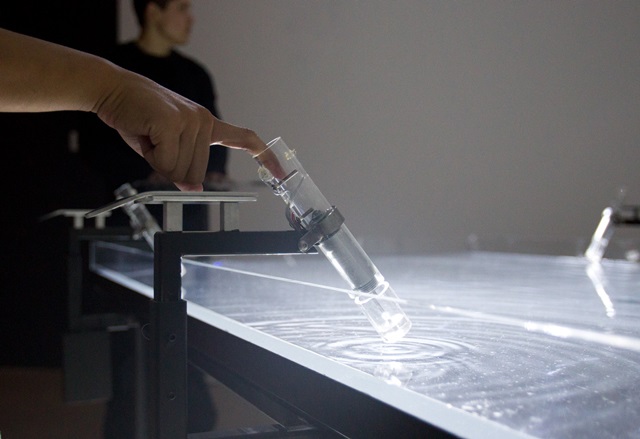 In the Hirshhorn's largest interactive technology exhibition to date, three major installations from Rafael Lozano-Hemmer's Pulse series will come together for the artist's DC debut. A Mexican Canadian artist known for straddling the line between art, technology, and design, Lozano-Hemmer will fill the Museum's entire Second Level with immersive environments that use heart-rate sensors to create kinetic and audiovisual experiences from visitors' own biometric data. Over the course of six months, Pulse will animate the vital signs of hundreds of thousands of participants.
With Lozano-Hemmer's trademark sensitivities to audience engagement and architectural scale, each installation captures biometric signatures and visualizes them as repetitive sequences of flashing lights, panning soundscapes, rippling waves, and animated fingerprints. These intimate "portraits", or "snapshots", of electrical activity are then added to a live archive of prior recordings to create an environment of syncopated rhythms. At a time when biometry is increasingly used for identification and control, this data constitutes a new way of representing both anonymity and community.
While reflecting on the upcoming exhibition, Hirshhorn Director Melissa Chiu offered the following: "Lozano-Hemmer will activate the Museum like never before… His hypnotic installations invite museum visitors to participate in a one-of-a-kind experience while addressing complex themes surrounding agency, mortality, and ownership".
The exhibition begins with Pulse Index (2010), which will be presented at its largest scale to date. The work records participants' fingerprints at the same time as it detects their heart rates, displaying data from the last 10,000 users on a scaled grid of massive projections. The second work, Pulse Tank (2008), which premiered at Prospect.1, New Orleans Biennial, will be updated and expanded for this new exhibition. Sensors will turn your pulse into ripples on illuminated water tanks, creating ever-changing patterns that will be reflected on the gallery walls.
Pulse Room (2006) rounds out the exhibition. The final installation features hundreds of clear, incandescent light bulbs hanging from the ceiling in even rows, pulsing with the heartbeats of past visitors. You can add your heartbeat to the installation by touching a sensor, which transmits your pulse to the first bulb. Additional heartbeats continue to register on the first bulb, advancing earlier recordings ahead one bulb at a time. The sound of the collected heartbeats will join the light display to amplify the physical impact of the installation.
Six short documentaries of Pulse works will also be exhibited, showing the breadth of the series through video footage of various other biometric public-art interventions in Abu Dhabi, Toronto, Hobart, New York, and Urdaibai, Spain (2007–2015).
Curated by Stéphane Aquin, Chief Curator with curatorial assistance from Betsy Johnson, Assistant Curator.


Washington
Hirshhorn Museum
Rafael Lozano-Hemmer
Pulse
November 1, 2018 - April 28, 2019