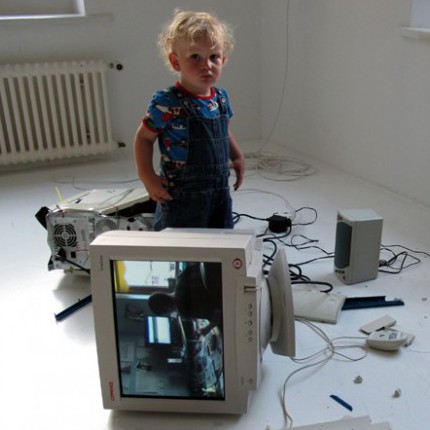 Sheffield
Site Gallery
Eva and Franco Mattes aka 0100101110101101.ORG
Lies, Inc.
9 June – 30 July 2011
(POSTINTERFACE) - Site Gallery is delighted to present the first UK solo-retrospective of tricksters, pranksters and media hackers Eva and Franco Mattes aka 0100101110101101.org. Renowned for their masterful subversions of public media, their work is precariously balanced on the edge of legal, ethical and social boundaries.
For example, for Nike Ground, their notorious (and unauthorised) Nike advertising campaign, they changed the name of the historic Karlsplatz, in Vienna to Nike Platz and provoked significant debate about public and private space (as well as a law suit). From impersonating the Vatican (through copying and subtly changing the Vatican website), to stealing fragments of artwork from major museums, they use the tools of the time to question the rules of the games we play.
In 2010, the pair borrowed the image of a cat in a birdcage carried by a budgerigar which had been spread about the world wide web and turned it into a full scale sculpture which they credited to the international art star Maurizio Cattelan. The work, which was Cattelan in style, was presented as part of an exhibition in the USA and was unchallenged by curators and art historians until it was challenged by the artist himself. Producing works which cleverly play with value systems, branding, real and virtual communications the artists have pointed out that in an age of digital re-production audience is the biggest asset of any artist, organization or company and even religion!
Their performative intervention into Chatroullette, an online two-way video chat-room where people connect with strangers for a short amount of time, was banned from You Tube. Entitled No Fun, the work documented the often indifferent or amused real time responses of participants to what appeared to be a suicide. Dark, painful and often shocking, their work unpicks some of the ethical issues and social change that has occurred in a society that is immune to much and interacts with each other at a distance.
Contemporary situationists who intervene into the everyday life via our increasingly digital communications and social media Eva and Franco borrow from many traditions, not least from performance. They have remade some of the most important performance artworks produced in the Twentieth Century and re-staged them in the online game Second Life. The results explore how social situations are formed and what might happen in virtual space that is less likely in the physical realm.
The UK exhibition will include Plan C, a sculptural merry-go-round – developed (in collaboration with Ryan Doyle) out of an undercover research trip to Chernobyl – which is still radioactive at a low level, recent online performances such as No Fun and Freedom (where the artists enter a multi-user online war game and beg not to be shot). It also includes a specially commissioned new work which randomly displays 10,000 photos drawn from individuals' personal computers. Unlike what people share on the internet, these files were meant to be private. As one can imagine there is a bit of everything: vacations, cats and dogs (a lot of them), parties, travels, sex, portraits, bedrooms… The artists state: "today the camera has become more easily concealed, with mobile phones and webcams it practically disappeared, and photos are widely shot by non professional photographers. But, unlike what most of us believe, privacy concerns surrounding photography did not start with the Internet, digital cameras or social networks, they are at least one century old. The increasing concern for privacy at the end of the nineteenth century was provoked by the invasive presence of the small camera. Early photographers were called 'intruders'".
At a point in time when the Sony corporation is investigating a major theft of online material and when radioactivity is again very much on our minds after events in Japan and the 25th anniversary of Chernobyl this year, Eva and Franco Mattes' work exploring these areas seems prescient and more relevant than ever.