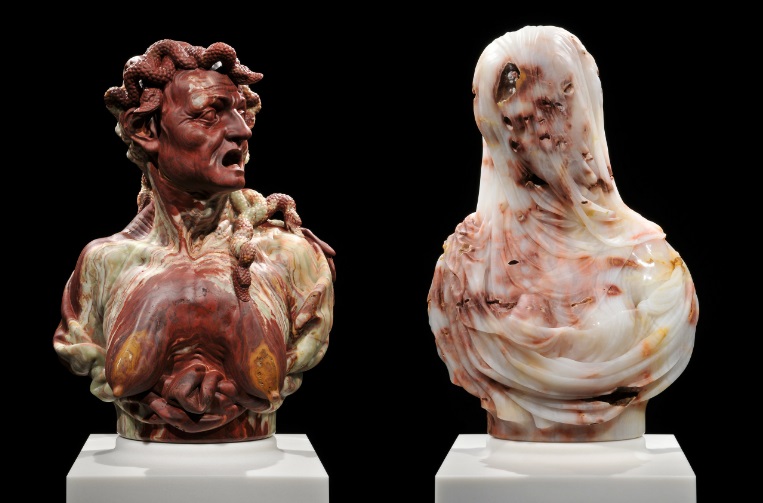 Barry X Ball reimagines and transforms historical artworks with the help of 3D-printing and stone-cutting technology.
by Jeremy Strick*
Six years ago, together with a group of Nasher patrons, I visited the Brooklyn studio of Barry X Ball. Ball might be considered the most traditional of artists. His works are figurative, carved from stone, and each sculpture is modeled after - and transforms - a historical antecedent, works from antiquity through the early twentieth century. And yet Ball's sculptures are among the most surprising and compelling sculptures produced today, remarkable for the novel technologies and tools used in their making, and for the haunting fascination they invariably engender.
Ball's studio at the time was a marvel, filled with works in various stages of completion, from busts to a full-scale figure, as well as tools ranging from a digital stone cutter to the dental picks the artist uses for his most precise and finely scaled carving. Ball's enthusiasm for his work and for the tools that helped him to produce it was contagious. Our group was thrilled by what we saw and amazed by the ways Ball's engagement with new technology allowed him to reimagine the most traditional of subjects.
Several years ago, Ball built a new, considerably larger studio in Brooklyn, the new space designed to accommodate the latest generations of cutting-edge (no pun intended) technologies, and teams of extraordinarily skilled craftspeople, whose work Ball directs. The studio is now said to be the world's most advanced stone sculpture facility. While I haven't yet visited, I did manage recently to see some of the work that is issuing forth from it.
Last May, I traveled to Venice, again with a group of Nasher supporters, to see the Biennale. Included in our itinerary was a visit to Ca' Pesaro, Venice's museum of modern art, which had organized a show of works Ball has recently made in homage to the great modernist sculptor Medardo Rosso - an artist whose work features prominently in the collection of that museum, as it does in that of the Nasher. While Rosso achieved extraordinary effects of luminescence and expression through a unique technique of wax and plaster, Barry X Ball's busts - each derived from a work of Rosso—achieved their own uncanny luminescence and visionary eloquence through the artist's unique mastery of stone. Seeing this work, we were fascinated and amazed.
This January, visitors to the Nasher will have their own opportunity to experience the sculpture of Barry X Ball. The Nasher has organized a survey of the artist's work, which will include about 20 sculptures made over the past two decades. This is a rare opportunity, as Ball, though an American artist, has exhibited much more widely and frequently in Europe than in this country. The show will include works realized in a range of materials, including semi-precious stones such as calcite and onyx, which he is nearly unique among sculptors in working. Meditations upon human form and expression, the history of sculpture, and the nature of materials, these sculptures will present a complex interplay between technological prowess, manual skill, and exceptional artistic imagination. The exhibition will astonish and delight. It is not to be missed.
Dallas
Nasher Sculpture Center
Barry X Ball. Remaking Sculpture
January 25 – April 19, 2020
*Director of the Nasher Sculpture Center