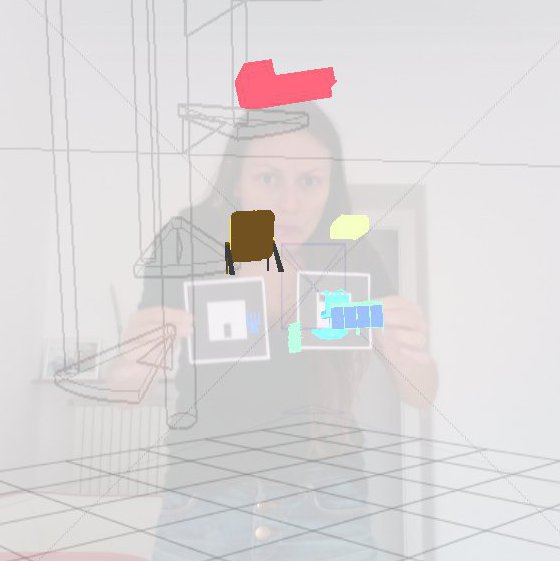 Chiara Passa, Augmented irreality (2010)
From the series "Live Architecture". Interactive video installation, time variable.
"Augmented Irreality" is an interactive video installation that is projected onto three walls and the floor. The artwork (built in Quartz Composer and Artoolkit) puts the viewer into the 3D software by placing him in the "window-camera" The spectator, through the use of some matrix (having different patterns the size of the palm of the hand) printed on squares, is able to operate, move, zoom, remove and interact with three-dimensional objects that meet on the Cartesian axes X, Y and Z of the simulated software. The artwork recreates a three-dimensional flat under construction, which the audience itself continues to customize through their movements. Also "Augmented Irreality," like other video installations of the series "Live Architecture," is based on the concept of "super place" where the site is self-performing and moves beyond its capabilities. The video installation reflects on the idea of the virtual/unreal and how our bodies, in real space, are related to this kind of dimension/experience. "Augmented Irreality" highlights the paradox of how augmented reality, in truth, diminishes reality itself, removing and modifying the real levels, it increases the irreality in our real atmosphere.
 - - -
"Augmented irreality", è una videoinstallazione interattiva che si sviluppa su tre pareti e il pavimento. L'opera (costruita con Artoolkit in Quartz Composer) pone lo spettatore all'interno di un software 3D, collocandolo specificatamente nella visuale: "finestra-telecamera". L'utente attraverso l'uso di matrici (aventi vari pattern) stampati su quadrati della dimensione di un palmo di una mano, può manovrare, spostare, rimpicciolire, rimuovere ed interagire a 360 gradi gli oggetti tridimensionali che incontra sugli assi cartesiani x, y e z del simulato software. L'ambientazione ricrea un appartamento tridimensionale in costruzione, che lo spettatore stesso, contribuisce a personalizzare attraverso i propri movimenti. Anche "Augmented irreality", come altre videoinstallazioni della serie: "Live Architecture", si basa sul concetto di "super luogo", dove quest'ultimo è autonomo, performativo e si muove oltre la propria funzionalità. Il lavoro fa riflettere sull'idea di irreale/virtuale e di come i nostri corpi nello spazio reale si relazionano sempre più con questa sorta di dimensione/esperienza. "Augmented irreality", mette in luce il paradosso di come la realtà aumentata, in verità, la diminuisca, sottraendo e modificando i livelli reali, aumenta l'irreale nella nostra dimensione effettiva.