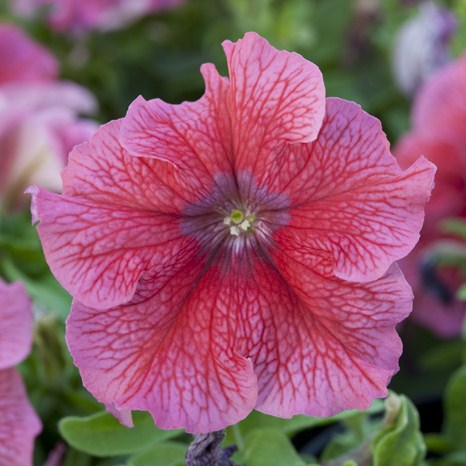 Eduardo Kac
Life, Light & Language   
(POSTINTERFACE) - Artist Eduardo Kac's solo exhibition, Life, Light & Language will take place at the Enghien-les-Bains Art Center, Enghien-les-Bains, France, January 21 to April 10, 2011. The show highlights Kac's telepresence art and bioart, new art forms created by the artist over his thirty year career.
The central living artwork in the exhibition is a plantimal, a new life form created by Kac, which he calls Edunia, a genetically-engineered flower that is a hybrid of the artist and petunia. The new flower is a petunia strain that the artist invented and produced through molecular biology. Edunia is a bloom that expresses the artist's DNA exclusively in its red veins and thus creates the living image of human blood rushing through it. In 2009, it received the Golden Nica Award, the most prestigious award in the field of media arts and the highest prize awarded by Ars Electronica.
Other artworks in Life, Light & Language include Essay Concerning Human Understanding, a live, interactive work which promotes dialogue between a bird and plant; Apsides, a biotope, a living artwork that continuously changes in response to environmental conditions; Teleporting an Unknown State, a work in which remote individuals send light via the Internet to enable a seed to photosynthesize and grow in total darkness; and Lagoglyphs, the most recent development in Kac's Rabbit Remix series, named after Alba, the artist's green glowing bunny.
Coinciding with Kac's exhibition at the Enghien-les-Bains Art Center, the artist is also exhibiting in First Exhibition, Verbeke Gallery, Antwerp, Belgium, January 14 - February 28, 2010 and Letteratura Elettronica, Palazzo delle Arti di Napoli, Naples, Italy, January 20 - February 20, 2010.
Since the early 1980s, Kac has pioneered new art forms to create poetry and art that explore the limits of locality, light, language and life.  From his anticipatory holopoetry to his current biopoetry, from his telepresence works to his ongoing bioart, Kac has continuously broken new ground. He has integrated many disciplines to present an imaginative view of art's relevance to the contemporary world, a view which has firm roots in the artist's background in philosophy and literature. His work has progressively focused on the relationships among and between humans, machines, animals, and
other life forms. Kac's work explores but goes beyond human language and culture to encompass communication between all living organisms. Kac uses communication processes, biological life, and digital networks to create works that explore fundamental human experiences such as the fluidity of language, dialogical interaction and awareness of our relative place in the larger community of life.
Kac's work has been exhibited internationally at museums and biennials such as Maison Européenne de la Photographie, Paris; Zendai Museum of Modern Art, Shanghai; Weisman Art Museum, Minneapolis; Institute of Modern Art, Valencia, Spain; Yokohama Triennale, Japan; Bienal de São Paulo, Brazil; and Gwangju Biennale, Korea, among others.
January 21 to April 10, 2011
Enghien-les-Bain Art Center, France
12-16 rue de la Libération
95880 Enghien les Bains, France
(15 minutes from Gare du Nord, Paris)