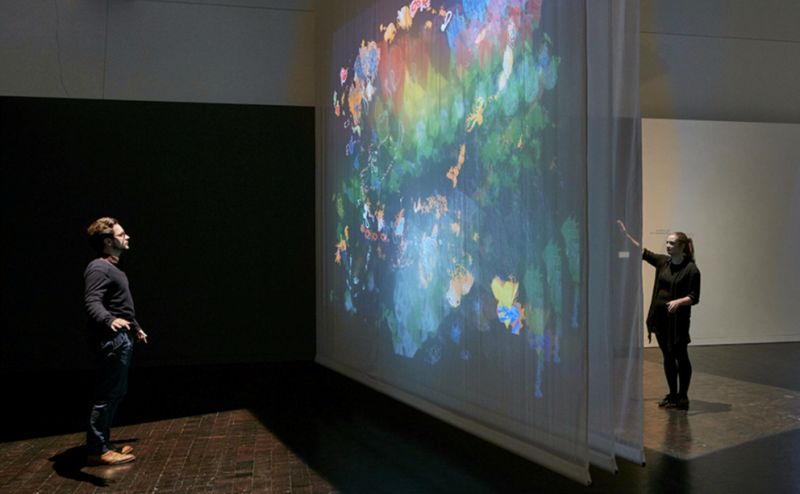 An interactive digital art installation, titled Entangled, from internationally recognized digital artist Camille Utterback, utilizes a computer program that tracks the movement of viewers and transforms them into abstract and evolving painting-like projections across a 10 x 15 foot screen. It will run concurrently with Cybernetic Serendipity, an exhibition documenting what many consider to be the first digital media art exhibition, curated by Jasia Reichardt at the ICA in London in 1968.
"This is a tremendous opportunity for Emerson College to welcome Camille Utterback - a leader in producing coded, interactive art forms - back to Boston. I have long admired her work at the forefront of new media art. Camille's signature work in combination with Jasia Reichardt's Cybernetic Serendipity documentary exhibition is a landmark event, highlighting two foremost figures of new media", said Joseph Ketner, Emerson's Henry and Lois Foster Chair in Contemporary Art and distinguished curator-in-residence in the School of the Arts' Visual and Media Arts (VMA) Department, and director of Emerson Urban Arts.
According to the artist, Entangled is an attempt to have viewers not only interact with the computer program, but also create a two-sided, transparent image by facing each other.
"Entangled refers to the merging of participants' physical traces on scrims in the installation, and also our ongoing emotional entanglement with digital systems in our lived environment", said Utterback, who appreciates the connection with the Cybernetic Serendipity exhibit. "For me, as a contemporary artist who uses computer programing to create artworks, it is quite an honor to be paired with documentation of such an historic exhibition".
A native of Boston and recipient of a 2009 MacArthur "Genius Grant", Utterback explores through her work the aesthetic and experiential possibilities of linking computational systems to human movement. To create her projects, she combines sensing and display technologies with the custom software she writes. A professor at Stanford University, Utterback also co-directs the Stanford Graduate Design Program.
Utterback's work has been exhibited at galleries, festivals, and museums internationally, including The Smithsonian American Art Museum, Washington, DC; The New Museum of Contemporary Art, New York, and The American Museum of the Moving Image in New York, NY, among others.
The documentary exhibition of Cybernetic Serendipity celebrates the 1968 show at the ICA in London in 1968, which was the first to attempt to demonstrate all aspects of computer-aided creative activity including art, music, poetry, dance, sculpture, and animation. The principal idea was to examine the role of cybernetics in contemporary arts. The original exhibition included robots, poetry, music, and painting machines, as well as other works where chance was an important ingredient. The documentary exhibit is curated by Jasia Reichardt from her archives of that groundbreaking exhibition.
Boston
Emerson Urban Arts Gallery
Entangled + Cybernetic Serendipity
March 1 - April 22, 2017