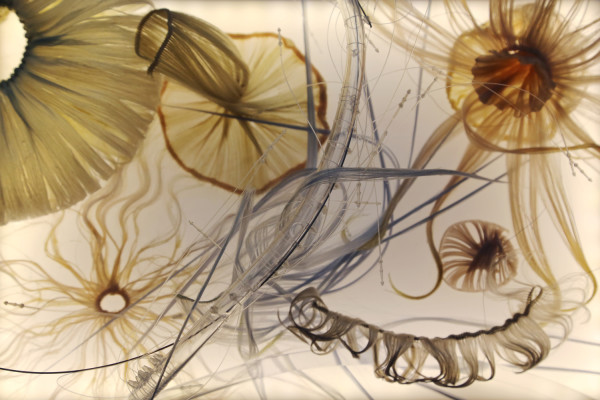 In UCCA Dune's first exhibition in 2021, twelve Chinese and international artists search for hope in a weary world and reimagine paradigms for future human civilization with planetary perspectives.
The group show brings together twelve Chinese and international artists and groups who adopt a more planetary perspective in their practice, including Alan Bogana, Cao Shu, Yin-Ju Chen, Chen Zhe, Chu Yun, Ohlsson/Dit-Cilinn, Hu Wei, Shao Chun, Anton Vidokle, Yu Bogong, Zhou Junsheng, and Zhang Wenxin/Chen Xin. The exhibition is curated by UCCA Director of Public Practice Liya Han.
At the dawn of the twenty-first century, as information technology develops at breakneck speed, our globalized world has entered into an unprecedented era of political, economic, and cultural acceleration, until the sudden halt upon the arrival of the COVID-19 pandemic in 2020. In turn, we have reawakened to the latent potential catastrophes of anthropocentrism, as well as the systemic failures that have long lurked beneath fracturing geopolitical and ethnic conflicts. As global economies become increasingly and irrevocably intertwined, forging a collective way forward becomes a question that perhaps requires transcending current paradigms and modes of operation. As one of Earth's many inhabitants, humanity has an ineluctable fate - the evolution of a planetary consciousness, one that transcends state, religion, race, and species. Far from a mystical philosophy, planetary consciousness points to the intrinsic interconnectedness between all earthly beings and our common, symbiotic survival, underscoring the fact that human beings are not unique in their claim to the universe. To possess planetary consciousness is to admit decentralized connections and the possible coexistence of complex and diverse multitudes. In our epoch of world-homogenizing technocracy today, planetary consciousness recalls an utopic ideal in an older spirit of cosmopolitanism, exploring, examining, and embracing the potentials of systems of knowledge outside human civilization.
With planetary consciousness in view, the artworks in "Space Oddity" weave together an expansive panorama of the universe. They confront the dispersal of identity, a byproduct of the constantly accelerating operational systems of human civilizations today, and trace the formation of a collective unconscious. Some of the artworks take the perspective of a satellite, examining from a distance human understanding of our planet and space-time: Chu Yun's Planet without Visa depicts Earth's singular natural attributes in the universe and suggests the planet's ontological significance beyond human definition; Cao Shu and Chen Jie's digital simulation and mixed media installations create dreamscapes that spark new reflections on human memory and the energy of the universe. Others turn to history and documentary video for harbingers of the future: Anton Vidokle's film trilogy on Russian cosmism unthreads the impact the philosophical movement had on the twentieth century and its relevant legacy today; reinterpreting fragments of history, news, and historical footage in an investigation of space physics, cosmography, and extraterrestrial myths, Yin-Ju Chen's Extrastellar Evaluations III: Entropy: 25800 choreographs a hypothesis for doomsday and humanity's future; Zhou Junsheng raises questions on the essence of the medium of video itself, in attempt to uncover the entropy behind tangible, surface reality.
Through lenses both micro and macro, artists retrace the flow of energy and examine our self-cognition as human beings. Inspired by prayer beads, Zhao Cun's hanging e-textiles sculpture brings viewers into a paradoxical ambience that prescribes a rapidly moving but tranquil energy, while Yu Bogong invents a set of symbols to depict the interconnected cognitive paths between human, nature, and the universe in a mandala. The artworks also suggest ways to reacquaint with the world around us through the five senses: Alan Bogana's Transmutations tells an abstract, visual narrative of the universe in a space configured by composite light projections; integrating nature, sculpture, and philosophy, There is a Secret Song at the Center of the Earth by the duo Ohlsson/Dit-Cilinn boldly portrays the negative consequences bought on by mainstream culture with the shock of scent and visual impact; Zhang Wenxin and Chen Xin's Slimy Blues and Speckled Shores takes up an instrumental algorithmic composition to construct a new, decentralized system that departs from human-centric consciousness. In his video installation, Hu Wei samples footage from early commune spaces and reflects on the standardizing effect digital technology and societal relationships have exerted on life itself.
The allegorical works of these twelve artists revolve around this pale blue dot in the universe, revealing our planet's traumas and memories, hopes and disappointments. The artists explore various organic systems, transforming their individual experiences into strange objects of perception. Their works are a reflection on the operational mechanisms of our society and mark a new struggle against the frustrations of our limited knowledge.
Beidaihe
UCCA Dune
Space Oddity
March 7 – June 6 2021