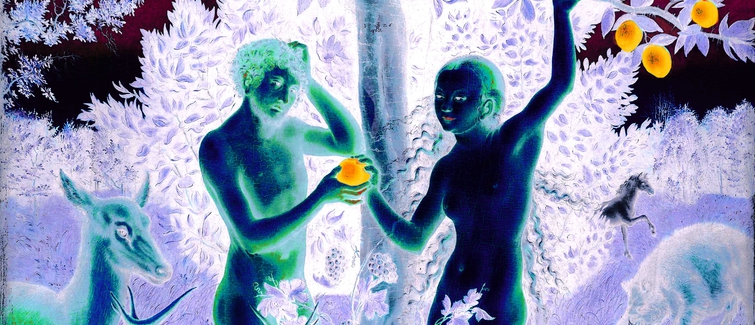 New Eden - or the new paradise ... What happens when human become aware of everything and the opportunity to create the world in his own image?
Where does the line between good and evil, and we will be able to know everything, or have eternal life?
According to Christian creation story, man lived thoughtless and innocent in the Garden of Eden, until the serpent tempted Adam and Eve to eat of the tree of knowledge.
Article Biennial 2016 exhibition New Eden explore our advanced knowledge of manipulating life, and where we might be heading with this. In the New Eden are creatures that have been created through advanced intervention in the natural order. Today we have enough knowledge to create gold, make skin to withstand bullets, and store information in DNA. What do we do with this knowledge? And what does it do us? What are the implications of the new biotechnology on society?
Artists:
Eva Bakkeslett (NO), Joe Davis (US), Jalila Essaïdi (DE), Gints Gabrans (LV), George Gessert (US), Margherita Pevere (DE).
The art exhibition will feature art with advanced use of biotechnology, participatory plant breeding, continuation of primeval Norwegian traditions and the ability to preserve your secrets for eternity. 
Article Biennial is produced and hosted by i/o/lab - Centre for Future Art, an artist-run organization offering expertise in the field of art, technology and science. i/o/labs projects has often been mentioned among the most innovative and interesting art projects in the region and nationally. In presenting innovative artistic projects within the interface art / science i/o/lab creates a meeting place between art and research, which targets a broad audience with roots in the local community. Article Biennale promotes art commenting on our digital world and that is affecting the ethical and political issues concerning our time. 
Article Biennial 2016 is curated by i/o/lab by Hege Tapio in collaboration with co-curator Nora Vaage, who wrote her doctoral thesis on Bioart at the University of Bergen.
Stavanger
Sølvberget Galleri
Article Biennial 2016 - Det nye Eden 
August 11 – October 2, 2016
Related articles:

Transgenic art. Leda Melanitis butterfly. Mario Savini's interview with Yiannis Melanitis
Project Genesis. Synthetic Biology – Life from the Lab. Linz, Ars Electronica Center