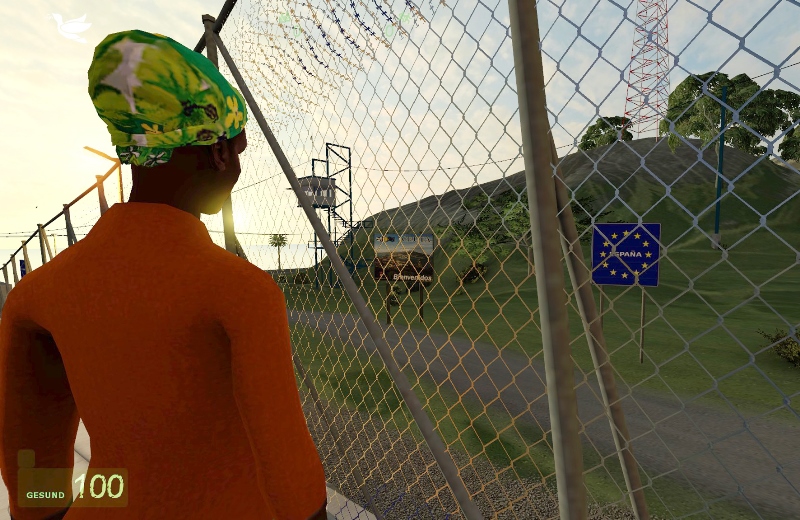 For twenty years, various forms of artistic, experimental, media-reflective as well as "serious" types of computer games have been developed. New strategies in gaming are based on artistic research in the growing fields of audio-visual media. Computer games reflect and analyze the function and structure of our societies.
The exhibition "New Gameplay" is comprised of six sections, presenting works of game art ranging from art that has computer games as its subject to computer games designed by artists. Classic media art and video games will also be a part of this engaging dialogue.
The section "Homage à Nam June Paik" reflects on specific works and strategies created by the Korean father of Video Art and analyze them in juxtaposition with works of JODI, the artist couple who presents non-object games by transferring violent ego-shooter into abstract forms.
The "Media Art in the Context of Games" section includes The Night Journey by media artist Bill Viola who translates video aesthetics into the interactive form of a computer game. Chinese artist Feng Mengbo is represented by his work Long March: Restart, a sixteen-meter long satirizing jump and run of the heroic myth of the Long March of the Communist Party of China's Red Army. Media art pioneer Jeffrey Shaw's The Legible City also demonstrates the utilization of gaming formats in the field of art. The "Hacking/Modifying Technology" section reflects on Paik's role as a forerunner of interactive art.
One area of focus is dedicated to independent and serious games, which have distinguished themselves by their particularly innovative game ideas, interesting experimental claims, and unique consciousness of their own means and forms of expression. Categorized as "Society and Games", these works aim to enhance and train the users' awareness of political structures and processes in their daily lives.
The "Urban Play" section demonstrates the virtualization of the urban landscape that uses latest developments in 3D-modelling and high-resolution immersive environments. The "Games and Apps" section presents fun mobile games for young visitors.
Artists:
Gold Extra, Niklas Roy, Thatgamecompany, Dejobaan Games, Rafaël Rozendaal, London Studio & Sony Computer Entertainment, Lea Schönfelder & Peter Lu, Lucas Pope, Mario von Rickenbach, Mikengreg , Marc Lee , Nam June Paik , Vector Park, Bill Viola, USC Game Innovation Lab, Ah Keung & Awesapp, Atari, Anna Anthropy, Alan Kwan, Everyware, Jens M. Stober, Orhan Kipcak & Reinhard Urban, Zachary Libermann & Golan Lewin, Jeffrey Shaw, JODI, KIT (The Karlsruhe Institute of Technology), Christoph Niemann, Kiyoshi Furukawa & Masaki Fujihata & Wolfgang Münch, Kiyoshi Furukawa & Wolfgang Münch, Molleindustria, Paidia Institute, Feng Mengbo , Peter Brinson & Kurosh ValaNejad, 11 Bit Studios, //////////fur////
Yongin
Nam June Paik Art Center
New Gameplay
2016.07.20 - 2017.02.19
Ph.: Gold Extra, "Frontiers", 2006 – 2012, Video game
Related articles:
[art game] L'interattività secondo Peter Luining
[art game] Gamification secondo Molleindustria
[art game] Mauro Ceolin. L'ironia tra i paesaggi di celebri videogiochi
[art game] Jason Nelson. I videogiochi come poesie digitali
[art game] 99Rooms. L'archeologia industriale di Rostlaub
[art game] Super Skill Jump. Il videogioco inutile di Christer Kaitila