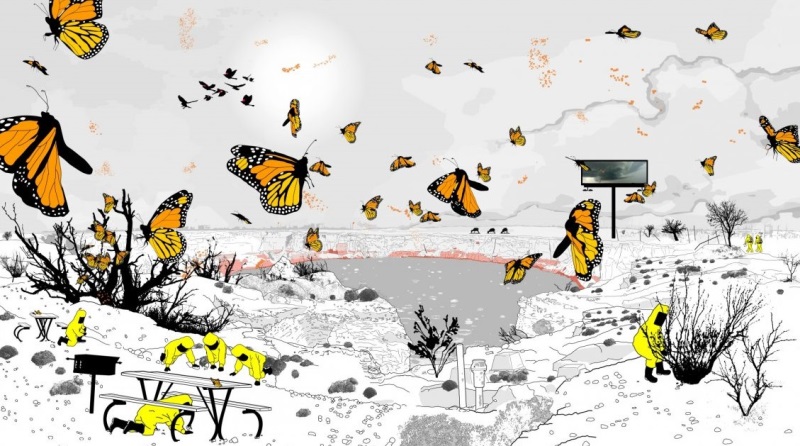 Mouse in the Machine: Nature in the Age of Digital Art features 15 digital and software-based artworks by 12 artists from the Thoma art collection to examine the intersection of technology and nature. Using customized software and code, the artworks simulate lifelike biological and ecological systems to emulate the passage of time, seasons and lifecycles.
The exhibition features a video art aquarium by Nam June Paik, realtime generative computer animations by John Gerrard and Marina Zurkow, an interactive augmented reality conveyor belt by Rafael Lozano-Hemmer, and drawings produced by the world's first and most successful artificially intelligent painting machine, created by Harold Cohen.
Mouse in the Machine takes its title from the famous philosophical expression "ghost in the machine," which calls into question the nature of the mind or the soul as it pertains to animating the human body. If art can be a form of artificial consciousness, can it truly perform the role of its creator beyond the normal human lifespan? Key questions explored in the exhibition include, do computers have persona? Can they truly be programmed with artificial intelligence? In an age when nature is being reshaped by technology, how will technology be adapted to function naturally, even biologically?
Santa Fe, United States
Thoma Foundation - Art House
Mouse in the Machine: Nature in the Age of Digital Art
June 18th, 2016 - April 1st, 2017
Artists:
Jim Campbell, Daniel Canogar, Harold Cohen, John Gerrard, Rafael Lozano-Hemmer, James Nares, Bruce Nauman, Nam June Paik, Alan Rath, Daniel Rozin, Stephen Wilkes, Marina Zurkow.